What are the best hair colors and hair styles for people with diamond face shape? Finding a hair color and hair style that suits our face can be difficult. It's fun to be trendy, but unfortunately, not every hair color and style will suit our faces as well as we would like. If your face is diamond-shaped, you can have a hard time finding style and color that work for you, especially when there are so many to choose from.
This article will explain how to choose the ideal hair color and hair style that suits for diamond face shape.
1. How to determine diamond face shape?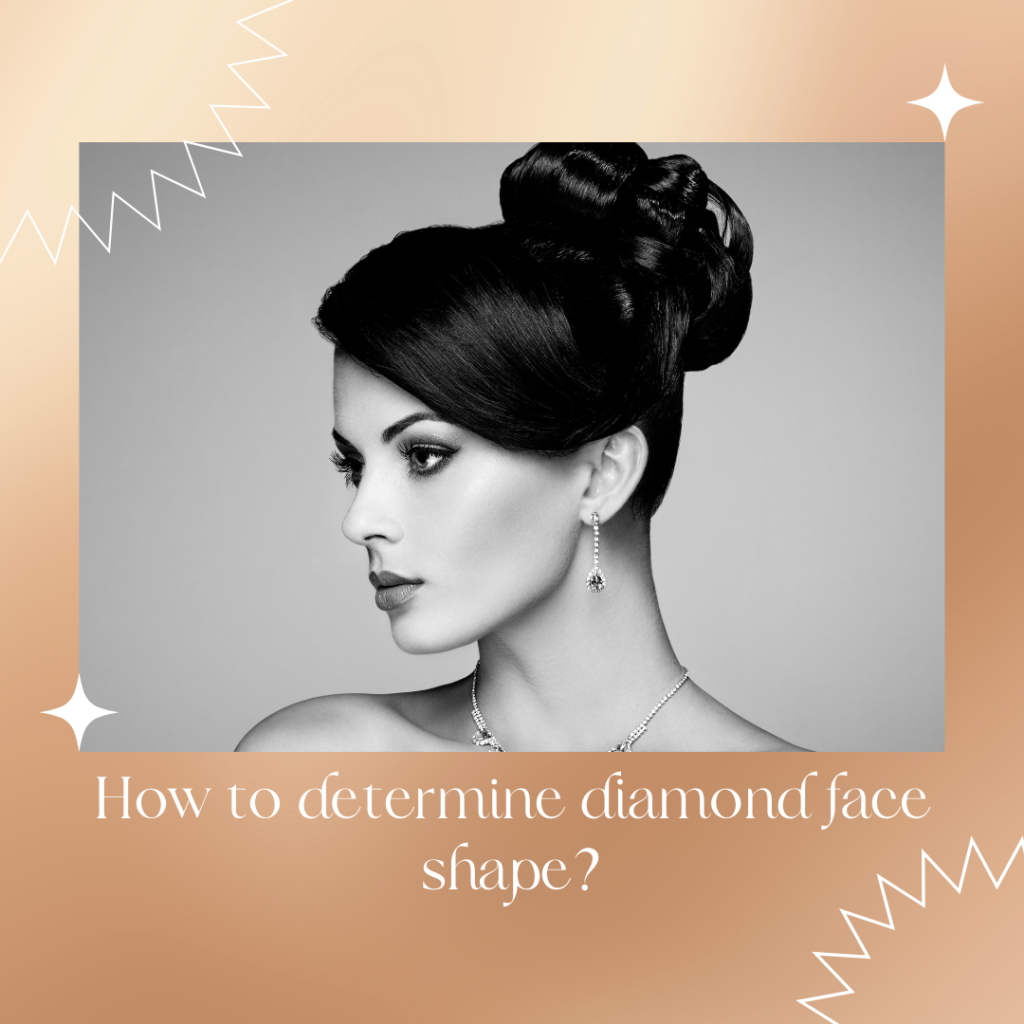 The diamond face shape is a variation of the heart shape. The pointed chin and high cheekbones define this face shape. Diamond-shaped faces also often have a narrow forehead.
If you want to know if you have a diamond-shaped face, pull your hair back and look at yourself in the mirror. Then, pay attention to the overall contours of the face, as well as the width of the cheekbones, jawline, and forehead. Five signs that your face is diamond shaped are:
1. Your forehead and jawline are roughly the same size.
2. Your cheekbones are most prominent on your face.
3. Your chin is pointy
4. Your face is slim where your eyes are.
5. Your face is the same width as the length.
2. Hair color for diamond face shape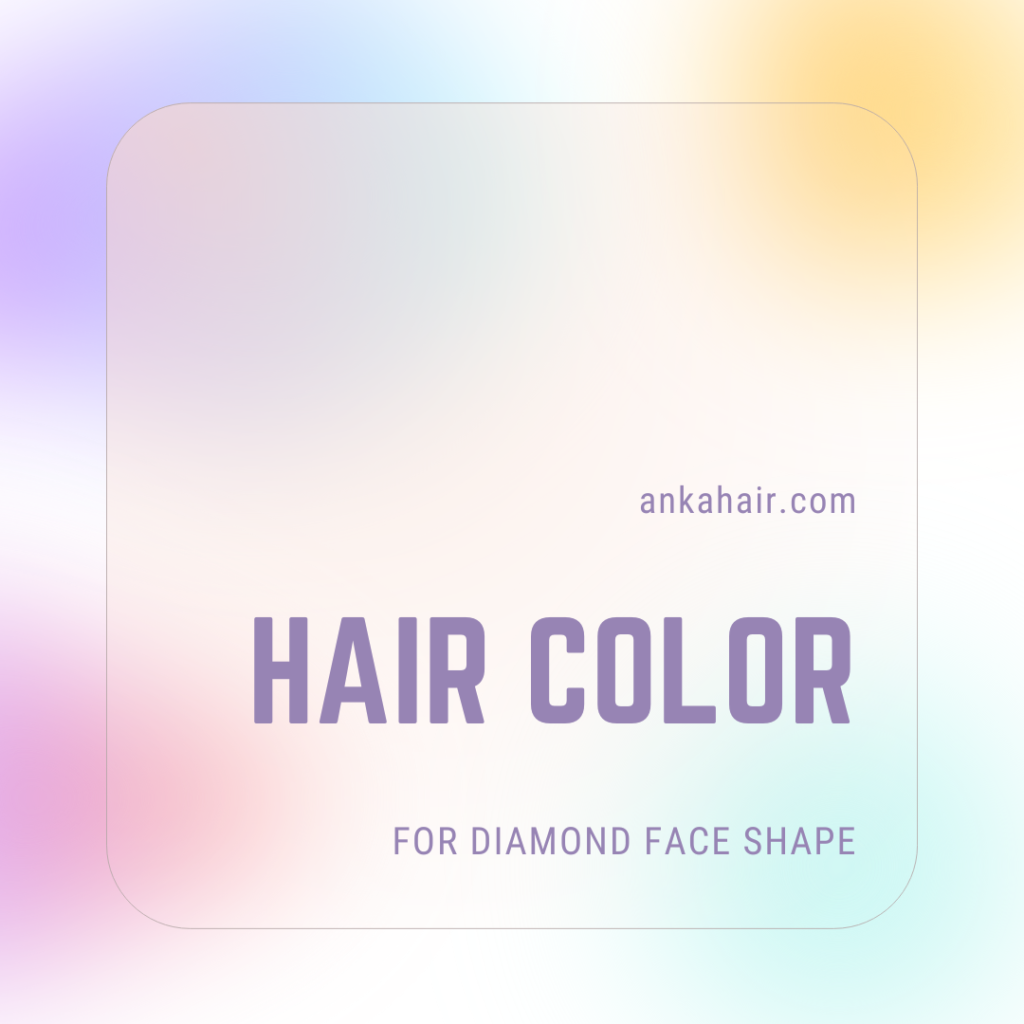 2.1 Focus points
A very narrow forehead and temples can open if lighter strands are woven from the beginning of the lower hairline extending to the outer corner of the eye. The hairline and hair underneath are darker on a diamond-shaped face to make the width of the forehead and chin look closer to the width of the middle of the face. Try darker shades in the root the follow the part, and highlights that extend from the point about the ears to the tips.
2.2 Best hair color for diamond face shape
The diamond-shaped face is characterized by a narrow forehead, high cheekbones, and a pointed chin. To create balance and enhance the natural angles of the diamond-shaped face, you should choose a hair color that increases the width of the forehead and chin area.
Some hair colors that can complement a diamond-shaped face include:
Dark shades: Dark shades like brown, black, or red can help add width to the forehead and chin area, and create a more balanced look.
Warm shades: Warm shades of gold, bronze or gold can also help add width to the forehead and chin area, and can accentuate your naturally warm skin tone.
Highlights: Adding highlights or low light to your hair can also help create dimension and add width to specific areas of the face.
Ultimately, the best hair color for you will depend on your personal style and preferences, as well as your skin tone and eye color.
3. Hairstyle for diamond face shape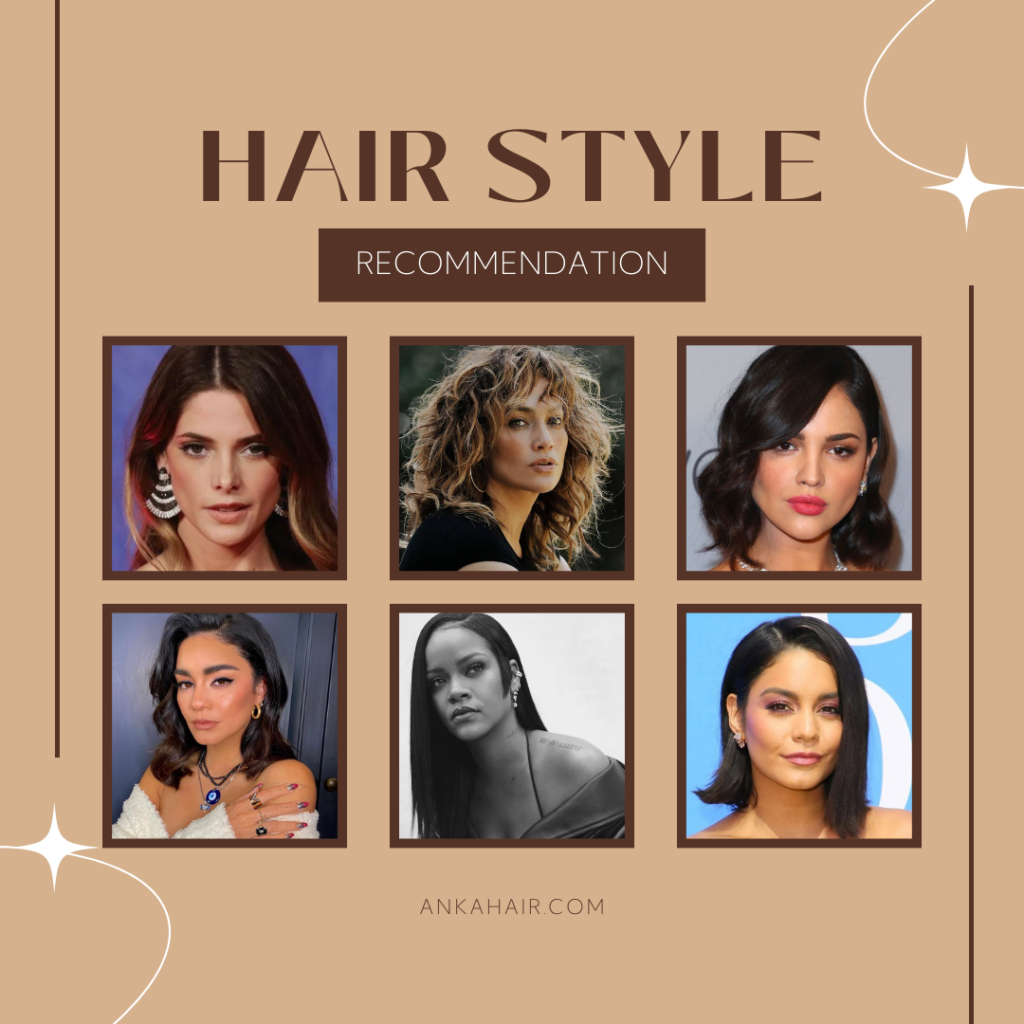 3.1 Focus points
Draw attention away from your cheekbones. Make sure the hair near your cheeks is flat and not bouncy. Focus on making your forehead and jawline appear a little wider than they really are.
Don't add height to the hair at the top. This will make your face look longer than it really is by making your jaw and forehead look longer than it really is. You can slightly puff the hair on the top of your head, but make sure you have bangs to cover the forehead.
Add volume to the hair below the jawline to make it appear less pointed.
Although cheekbones are the fullest part of a diamond face, sometimes flaunting them works wonders. Show off your cheekbones by using a hairstyle tucked behind your ears.
Consider wearing bangs in the front as they help to shorten a long face.
Parting in the middle will make the face appear longer than it really is. Try a side or center turn in a zig-zag pattern.
Avoid one-way bobs or buns. They will amplify your angular features.
Curls add texture to the hair, which is what a diamond face is all about. However, make sure you don't add curls near your cheeks as this will accentuate them. Instead, add volume near the forehead and under the chin. If you have completely curly hair, your volume will be thicker as the hair grows out and thus, soften the angular lines of your face.
Choosing a hairstyle is difficult for this face shape because it is quite unique. But, don't worry! We have compiled a list of things you need to focus on to get a good hairstyle.
3.2 Best hairstyle for diamond face shape
If you have a diamond-shaped face, you may want to correct it by visibly lowering the high cheekbones and adding width to the chin area. At the same time, avoid highlighting the sharp and sometimes uneven hairline. Here are some suggestions for the best hairstyles for the diamond face shape.
3.2.1. Short hair for diamond face
Short hairstyles that accentuate your cheekbones for a diamond-shaped face are a lovely choice for a diamond-shaped face. With this simple style, the cheeks are highlighted by layers that bring attention to them, and the side-swept bangs cover a small forehead.
If you want your short hairstyle to be a bit fuller, consider a style that highlights curls past the base, where your face is narrowest. This will give you a variety of sizes and widths in the areas where you need them most.
Pixie hairstyles
One of the most popular short haircuts, the pixie has been a clear favorite among celebs. In particular, the side-swept pixie looks absolutely stunning. The hairstyle conceals half of the forehead and softens the jawline, which balances the sharp features of a diamond face.
Bob hairstyles
French bob, pixie bob (a mix of bob and pixie hair) or blunt bob – this wedge cut is one of the most suitable hairstyles for diamond faces today. If you have thick hair, the ends of your hair will help your bangs slide to the side more smoothly. A bob that sits at or below your chin will add volume to the narrow chin of a diamond-shaped face. Combine with loose bangs to cover up the crooked hairline and balance the split chin. This style is ironed to perfection: the threads are curled in different directions and the ends are firmly reinforced.
3.2.2 Mid-length hair for diamond face shape
If your hair is back-length, then a style that accentuates your diamond shape using straight, frizz-free strands and loose bangs to frame your face is essential. To complete the look, pair this style with a center section of hair.
Wolf cut
Shoulder-length hairstyles like the wolf hairstyle will suit a diamond-shaped face. This style enhances the style by styling it to the side and securing it with hair pins. This diverts attention away from your jawline and thin forehead and onto the largest part of your face – your cheekbones.
Long bob hairstyles
A chin-length bob is one of the best hairstyles for diamond-shaped faces, as long curls that come close to the chin will definitely make the face look wider. Blow-dry the front layers of your short bob as bangs for a smart curl that frames your face.
A middle or parted part the delicacy and grace of the long bob well. However, if you have a diamond-shaped face with a narrow forehead, part your hair to the side. Wider cheekbones will be hidden by side-swept bangs, which will also highlight the eyes.
3.2.3 Long hair for diamond face shape
Long with layers cut and bangs
One of the best techniques used by hair stylists to contour the face and add the ideal accent to a face with a diamond shape is long layers. Add facial highlights and a slight ponytail for a dashing look. Add glamor to your diamond-shaped face with soft curls and flat bangs to capture the look.
Wavy long hair
Long hair is rarely used to shape the face, but bouncy curls and perfect color will definitely help. Long hairstyles for diamond facial types should also take layering into account.
The combination of curly hair and bangs
This fun hairstyle requires you to tie your hair up in a high ponytail at the center of your head and add interest with curls created with a curling iron. To ensure that this hairstyle matches the diamond shape, arrange it so that your long curls go down your face and stop midway, focusing on your cheekbones.
Let your long hair fall naturally over your shoulders and adorn it with stylish narrow bangs or face-hugging layers. By optically lengthening your face, bottleneck bangs can help you make the most of your diamond facial shape.
We hope you've found some inspiration from these hairstyles for diamond faces! If you still require some examples, you can safely follow celebrities with diamond-shaped faces because their stylists spend much time and effort creating flattering styles for these fashion icons.
For all of our diamond face shape mates: There are numerous hair tips and tricks available to improve your high cheekbones and lighten angles. You can follow these recommendations as a general guide or just carry out your normal beauty routine. In the end, it's your face, and only you know what looks and feels best on you.
Check our product for all hairstyle