The heat of curtain bangs has never been cool down, it can be clearly seen as it is 2022 and the curtain bangs trend is blowing everywhere. Especially it is summertime, what is better than having a haircut for your summer change? But chances are, the cut will never meet your expectations. Therefore, to have you change yourself to the prettiest, Anka hair is here to suggest you one of the easiest and most trendy hair in 2022 – Curtain bangs. In today's article, let's learn everything you need to know about curtain bangs. And hopefully, after the reading, we can help you answer the question "Should I cut curtain bangs?".
TABLE OF CONTENT
I. Definition of curtain bangs
II. Classification
1. Blown Out Curtains
2. Choppy Curtains
3. '70s Curtain Bangs
4. Brunette Curtain Bangs
5. Shaggy
III. Should I cut curtain bangs?
I. Definition of curtain bangs
Curtain bangs are a type of bangs that frame your face on both sides like a curtain. Their typical features are shortcuts on the inside and gradually longer to the outside. And just like a curtain, center-parted is its typical fringe.
Curtain bangs are a fantastic halfway ground (you can have bangs some days and no bangs other days)—which is very attractive, whether you want to try out a more manageable fringe before committing to something shorter or want to freshen up your style without going as dramatic as, say, micro bangs. You also won't have to worry about going to the salon every few weeks for routine cuts. They will merely become face-framing layers over time
II. Classification
Curtain bangs can be classified into 30+ different type, but there are 5 following basic style among curtain bangs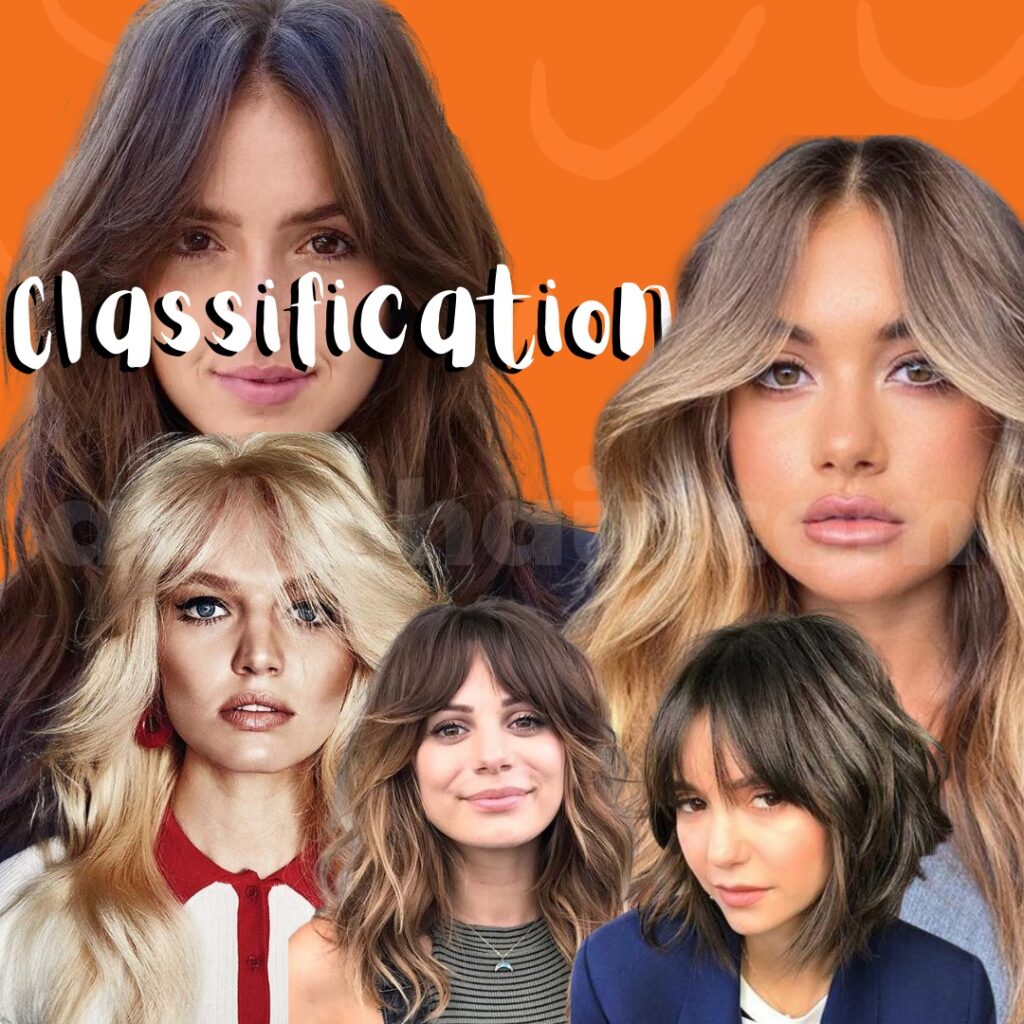 1. Blown Out Curtains
Blow your long bangs into form by gently blowing them to the side of your head. The smooth texture of the curtains adds to the spectacular blowout impression. ⅔ to your forehead is ideally long bangs.
2. Choppy Curtains
Mostly, we are familiar with long curtain bangs but actually a medium length with choppy look can kill the game. Who knows this unique type can be your key attraction.
3. '70s Curtain Bangs 
The 70's curtain bangs are coming back with a classic Farrah Fawcett inspired style, this retro look is super flattering for most hair types. However, this type needs more effort to keep a wide and natural look and the result is worth your while.  
4. Brunette Curtain Bangs
A classy style, this low effort curtain bangs can be easily styled by just placing your bangs as you want them to lay and use a few creaseless clips to hold each side in place until they're dry. The brunette color will definitely give you the naive but sharp look that perfectly suits the summer vibes.
5. Shaggy
Great for adding body to naturally fine, straight hair, this textured style combines the shag cut and the curtains trend in one. Wear it messy and disheveled for the ultimate bedhead look.
III. Should I cut curtain bangs?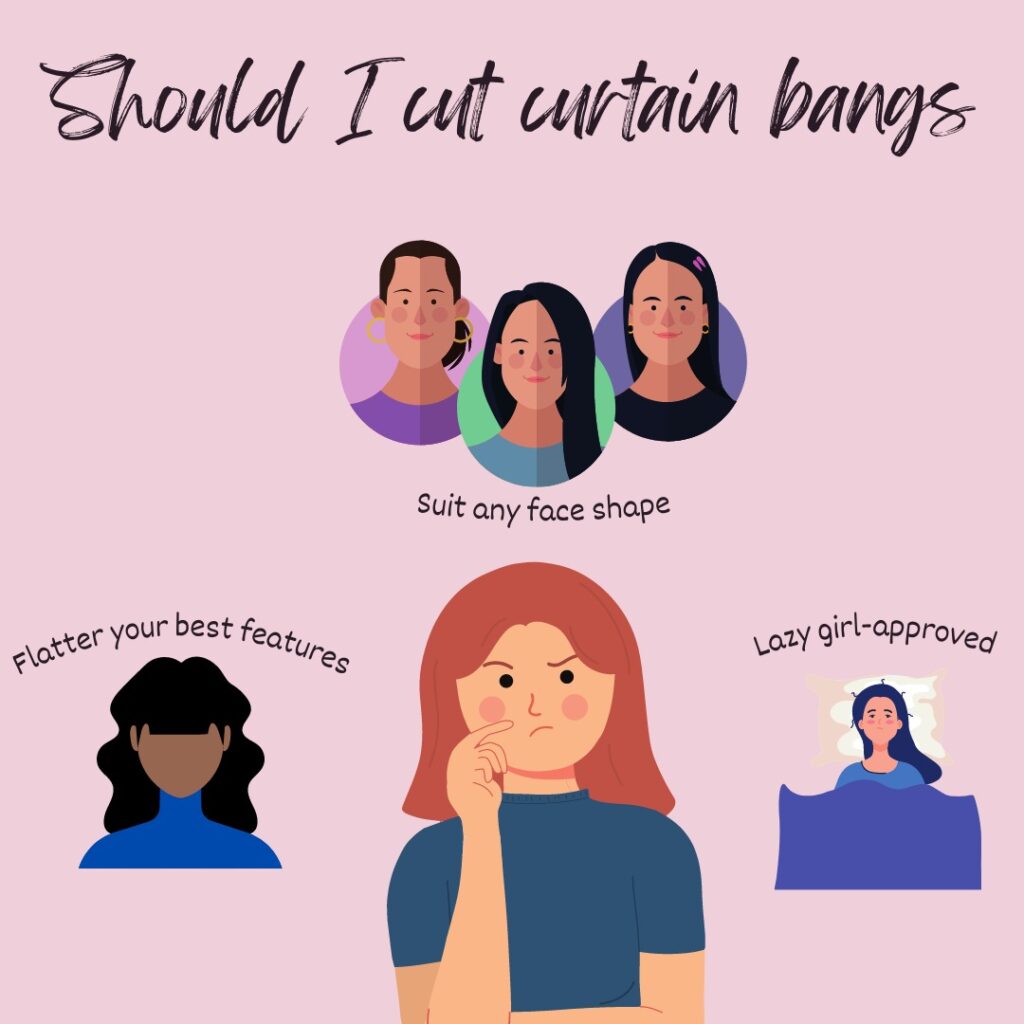 After scrolling through every definition about curtain bangs, the answer may be unclear to you. Here are 3 reasons why you should cut curtain bangs
They can suit any face shape
It is recognisable that curtain bangs are designed to suit any face shape and can be added to instantly create character. Long, sweeping, or textured bangs instantly renew a person's style without requiring a full chop or the addition of layers. It's a non-committal, entertaining method to switch up your look. Curtain bangs are a versatile style that I believe looks best on longer hair.
Curtain bangs flatter your best features
The reason is pretty simple, curtain bangs perfectly help hide big foreheads, with the layout, they flatter your cheekbones, and know how to highlight your best features. In other words, they are good for all face shapes, especially suitable with most black baddies' features. But it can only shine if you cut it right. Therefore, a skilled hairstylist is a must since curtain bangs are pretty hard to take care of.
They're lazy girl-approved
Greasy bangs? No worries. A quick five-minute dip in the hand basin with shampoo. This will freshen them up and you can skip conditioner to save time. Blast your bangs dry with a brush using a wrap-dry technique- when you brush the fringe forward over your face then brush it from side to side as you dry, repeatedly in order to 'confuse' the hairline. The hair is directed to fall forwards and you'll get the perfect, bouncy bangs every time.
Curtain bangs are great by how they enhance your best features and also the way they are easy to process greasy problems and fix them to their natural look. But like other bangs, curtains are relatively low maintenance. Some extra effort is required to keep a smooth and silky texture. Compared to other types of bangs,  curtain bangs may be easier to style, especially true during the cooler fall and winter months. Anka Hair hope we have covered you through everything about curtain bangs. Should I cut curtain bangs? If there are any questions, feel free to contact us here to get more information about hair extensions and hairstyle.