The autumn is coming, do you consider to change something to welcome it? In this article we want to suggest you five favorite fall brown hair of 2017.
Ash Brown
Ash brown is one of fall brown hair attracting ladies' attention most.
Ash Brown is one of the most popular shades of brunette is ash brown. It seems that ash brown can be applied for four seasons in a year. Because ash brown shines in the summer and looks warm against dark fall neutrals.
However, you need to take note of the following things to know whether or not you are suitable for Ash brown?
Firstly, you have to own clear skin especially no acne on your face because ash brown can highlight the red color of acnes.
The second thing, ash brown can make your skin look pale. A solution to this problem is that you can wear a lipstick such as red lipstick. Ash tone will make your sexy lip stand out.
Honey Brown
Honey brown hair is deeper than golden brown and often lighter than ash brown.
If you want a subtle color, honey brown is a great choice for you. Especially, with this lighter brown, you will stand out in the sunlight.
Another benefit of honey brown hair color is that it looks good with both warm and cool skin tones.
Golden Brown
You want to dye your hair with great colors but you have to bleach your hair to strip out all of the color. This can make your hair damaged completely. However, with golden brown color, you will immediately have a vibrant hair color while maintaining your hair well
There are two types of golden brown hair color – light and dark. Dark golden brown hair color looks best on golden and olive skin tones. Light golden brown hair color looks best on warmer skin tones too. It is not suitable for cool skin tones.
Chocolate Brown
When it comes to chocolate, we often relate it to sweetness. Who doesn't love chocolate? If you want the whole world to see your love for chocolates, there is no better way to do it than with hair color Chocolate brown hair! Chocolate Brown is close in tone to Brunette ladies' skin, therefore, it can enhance their skin's gorgeous glow. There are a variety of brown color shades to choose such as:milk chocolate, dark chocolate, or even spicy chocolate. Pick your favorite chocolate brown, it will make your day!
Rich Caramel
This magical hair color pairs so well with chocolate brown. The rich red hues combined with the dark brunette create a beautiful combination with just enough dimension. This deep warm color looks great on people with a warm skin tone olive skin and hazel eyes. Caramel shades are so much fun to wear, and they can really bring the best out of hairstyles, too.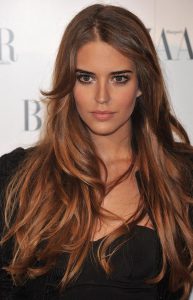 What are your favorite chocolate brown hair colors? Tell us in the comments section below!