With technological advances, synthetic hair has become more popular  in recent years. However, if you expect natural look, human hair is still the best choice.
 Honestly, in some cases, it is hard to tell the difference between synthetic hair and human hair. As a matter of fact, with some of the higher quality synthetic pieces, you would never know they were not natural human hair if you didn't have the human hair right next to it to compare!
Therefore, with our experiences during over 10 years of manufacturing hair extensions products, we would help provide you some tips to distinguish human hair and synthetic hair.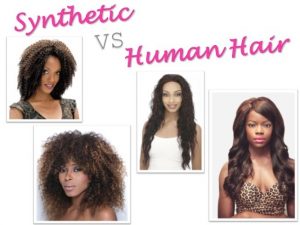 Synthetic hair
– Made from fibers so non-resistant to heat => Difficult to style (flattening, curling) by straighteners and curling irons and cannot be dyed. Especially, after you has styled for synthetic hair, they are often dry and brittle.
– It is dry and tangled that you can't gently brush them from roots to tips.
– Tangled and rough at the tip hair
– Short lifespan because it is very sensitive to conditions such as humidity, temperature or sun exposure and moisture in the air.
Human hair
– They can be heated (curled or straightened), colored for best color matching results, styled, washed, and treated as you can with your natural hair therefore making them much easier to work with.
– Feeling soft when you touch the tips and it is easy to brush them from roots to tips
– Being dived into water or getting wet, they are still silky, smooth, no tangle and no shedding
– It is easier cared with same method as you apply for your hair: washing with shampoo and conditioner, brushing with comb…
In general, hair extensions made from 100% real human hair have many advantages. More importantly, Human Hair offers the most natural look and feel. If you want to know more high qualified hair products, please visit our website https://ankahair.com/
We are proud of being leading wholesales of 100% Vietnamese human hair with 100% yaki hair (no treatment, no chemical, no dyed, no bleached), 100% remy hair (no tangled hair, all hairs are same direction from root to tip, no shedding)