For those who have been familiar with hair extensions and wigs, closures and frontals must be their best friends. With versatility and efficiency, using a closure or frontal can bring you a natural hairline and outstanding look. The special designs of closures and frontals enable people to part the hair whatever way they want to, just like what they can do with their real hair. However, it is the flexibility that makes it sometimes quite hard to decide which is the most suitable hair parting. In this article, Anka Hair will give you answers to some questions you may have always wondered about parting hair with closures and frontals. 
I. What can closures and frontals do?
A closure or a frontal is often used with a wig that is made from several hair wefts. It is placed on top of your head in order to make a natural hairline and by that, you can part your hair in a way that makes the wig looklooks so real.
Not all wigs can do the same. It is because a closure or a frontal usually comes with a piece of lace. For example, at Anka Hair, we use Korean HD lace – a material that combines all qualities needed for a functional lace – which is durable, flexible and can blend perfectly into your skin tone to create an illusion of the hair actually growing from it. That way, no matter how you part your hair, the hairline will look completely natural.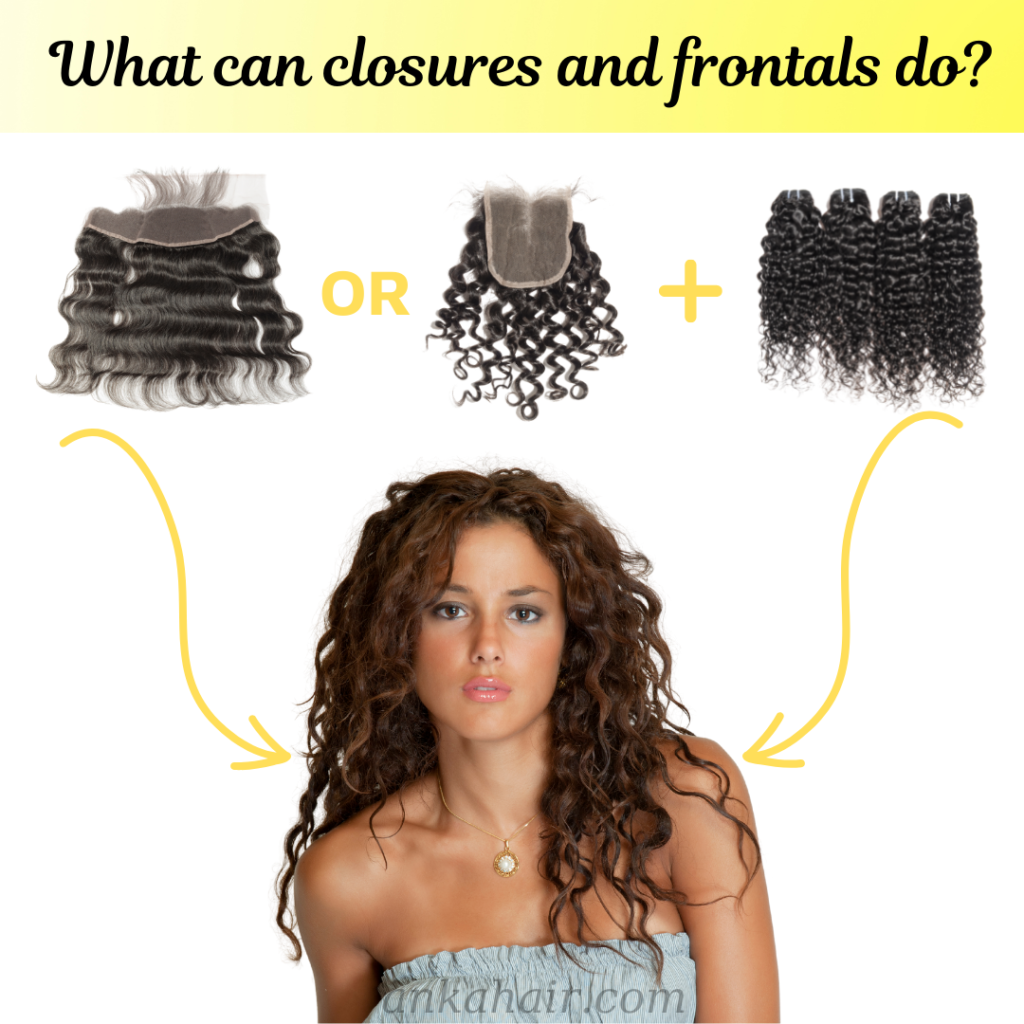 II. Parting hair makes versatile hairstyles
There are plenty of ways to style your hair. Many of them involve hair parting. It is a very simple way to refresh one's look since everything can be completely different only by changing the way you part your hair. 
1.Why parting hair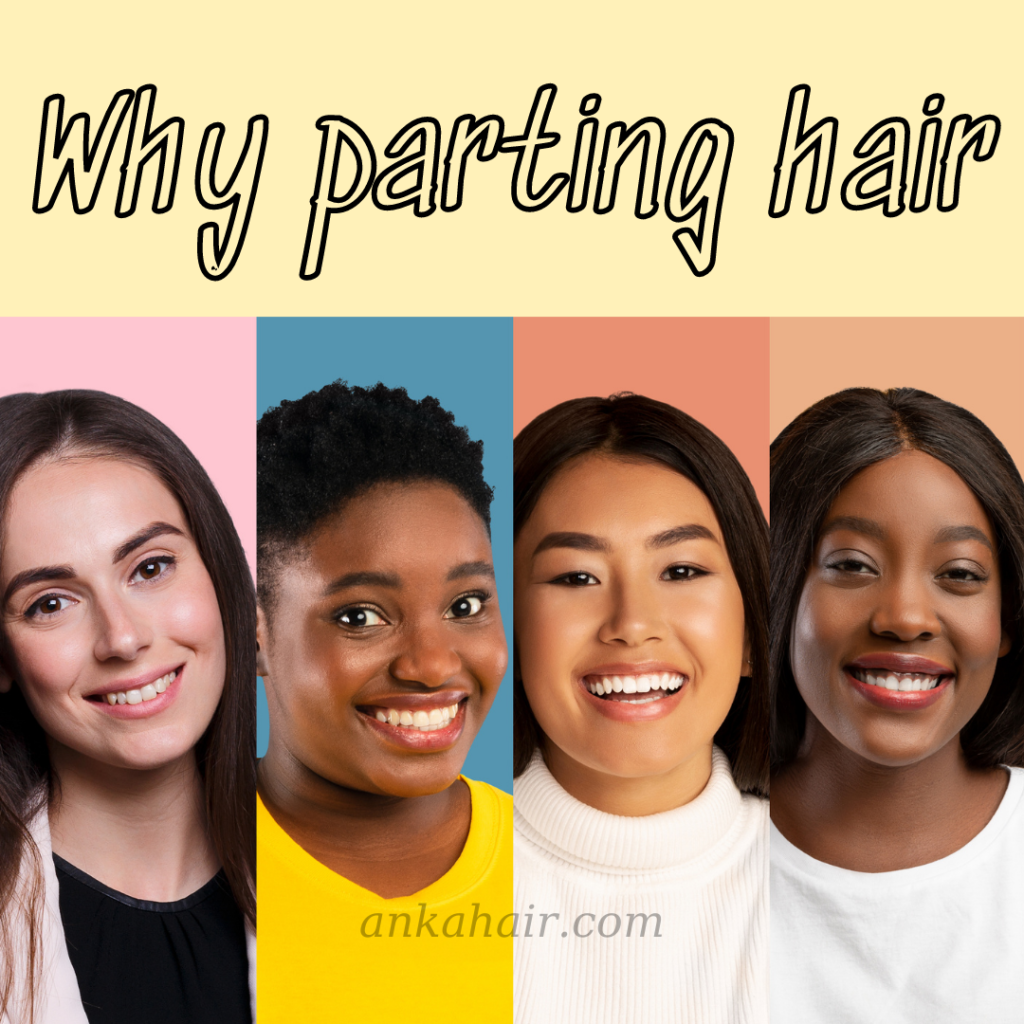 People part their hair for various reasons. Firstly, faces have different shapes and angles. Some people may have round faces, some have high cheekbones, others have square jawlines and angular faces. Each type of face has its own beauty and an appropriate parting style will help highlight it. Secondly, natural hair always tends to part ways to form pattern and hairlines while growing. Thirdly, it is advisable to periodically change the style of parting since wearing a particular parting style for an amount of time may affect the hair growth speed. With natural hair, people can choose any parting style they want and can easily change it when they want to. However, if you are using hair extensions, it is not always the case. That's why you are going to need a closure or a frontal.
2.Different ways of parting hair
As mentioned above, there is no limitation when it comes to parting your hair if it is real. With hair extensions and wigs, however, there is a lot to consider. Fortunately, with the help of a closure or a frontal, there are many open doors for people who want to refresh their look just by parting hair.
Frontals often have a 13-inch width which can cover from ear to ear and provide a super natural hairline. Wearing a wig with frontal, you can part your hair in as many ways as you can think of: Center parting, side parting, deep parting, zig-zag parting, ect.
Closures, however, have limitations. With the width of 2 to 8 inches and the ability to cover just sections of your hairline, closures can only provide certain types of parting. This doesn't mean you shouldn't use closures. In fact, as at Anka Hair for example, closures are provided with 3 parting styles: Free part, middle part and three parts. With just a little ingenuity, you can completely customize and change the appearance to your liking with closures.
III. Parting hair with closures and frontals FAQ
Because parting is the simplest and fastest way to refresh the look, many women like to use this method. By using a wig together with frontal or closure and determining the right parting style that suits the face shape, many have experienced truly amazing outcomes. Now before you start to explore the magic of parting hair, take a look through some of the most frequently asked questions related to closures and frontals so that you can really master the art of it.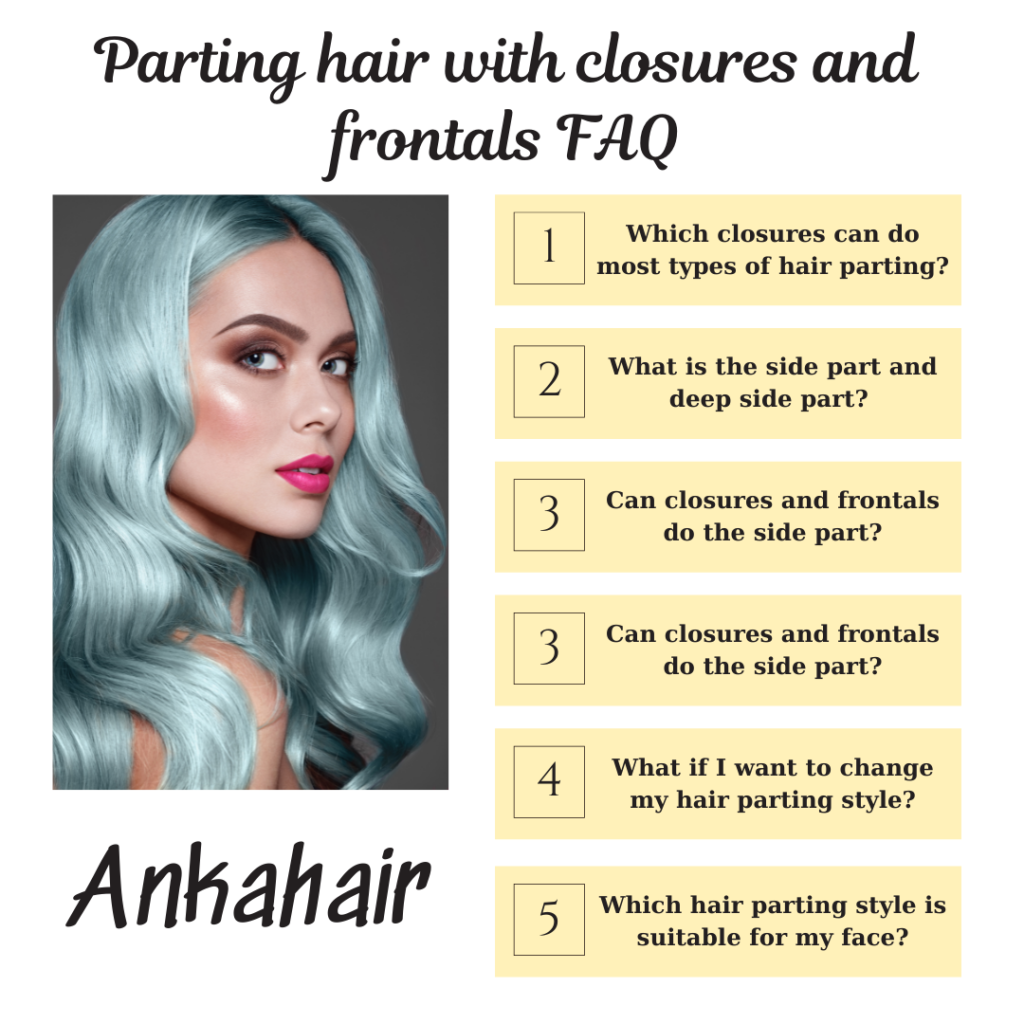 1.Which closures can do most types of hair parting?
Closures are available in various dimensions including 2×4, 2×6, 4×4, 4.5×5.5, 5×5, 5.5×5.5, 7×4, 6×6, 7×6, 8×4 (inches). Small size closures such as the 2×4, 2×6, 4×4, 4.5×5.5, 5×5, 5.5×5.5 are suitable for the free part or middle part. Medium size 6×6 closure can be done in three types: Free part, middle part and three parts. If you choose a 7×6, 7×4 or 7×8 closure, you can do almost every type of hair parting.
2.What is the side part and deep side part? 
It is the style that the hairline will be sided on the left or the right of your head. Side parting is considered the most suitable style for square faces since it can create an illusion of a more balanced and slim face. Deep side parting is done when the hairline goes all the way from your front to the top of your head. This type is often used with heart-shaped faces so that it can soften your pointy chin and your cheekbones as well.
3.Can closures and frontals do the side part?
Frontals are the most flexible type of hair extension, it can allow you to part your hair in every way including side part and deep side part. Closures, as mentioned above, have limitations. You can adjust the position of any closure to make a side parting but you can only do a deep side part with a closure of at least 7 inches width.
4.What if I want to change my hair parting style?
You can always change the style when you want to with any type of closures or frontals. Especially if it is a three part closure – a pre-parted style with versatility which allows you to change your hair parting style at any time with ease. As for other types of closures and frontals, you can use comb, hair styling gel or heat-styler to part it the new way.
5.Which hair parting style is suitable for my face?
Here are hair parting styles that can go well with 6 popular face shapes. Find one which is yours:
Round face: Middle or deep side part
Square face: Side part with bangs
Oval face: Any part
Heart-shaped face: Deep side part
Diamond face: Side part with no bangs
Long face: Middle part or bangs
Are you ready to experience the magic of hair parting with closures and frontals? One change that can bring a surprising look, it is a way out for people who have little time to style their hair everyday. If you do not have a wig with closure or frontal, why not try one with Anka Hair high quality human hair extensions? As an expert with more than a decade of experience, we can guarantee to bring you the best human hair, advise you to choose the most suitable closure or frontal and help you to part your hair perfectly. Contact us NOW for more detail!