If you are familiar with different types of hair extensions, you may come across the term Keratin hair, Fusion hair or pre-bond hair extensions somewhere. In fact, they are different names of Keratin hair extensions – a method used by many hairstylists and favoured by many beauty-lovers. As an effective way to create beautiful, natural, full and thick hair, keratin hair extensions have proven to be one of the best hair extensions.
What makes keratin hair extensions so special and how are they going to help you with refreshing your look? Let's go with Anka Hair on this article to find out!
What are Keratin hair extensions?
I, Definition
Keratin hair extensions are bundles of real human, unprocessed hair which have a pre-installed keratin adhesive at the top. Instead of being attached to your hair by using tape or glue like most other hair extensions, these beads of keratin adhesive will be fused to your hair using heat or micro rings.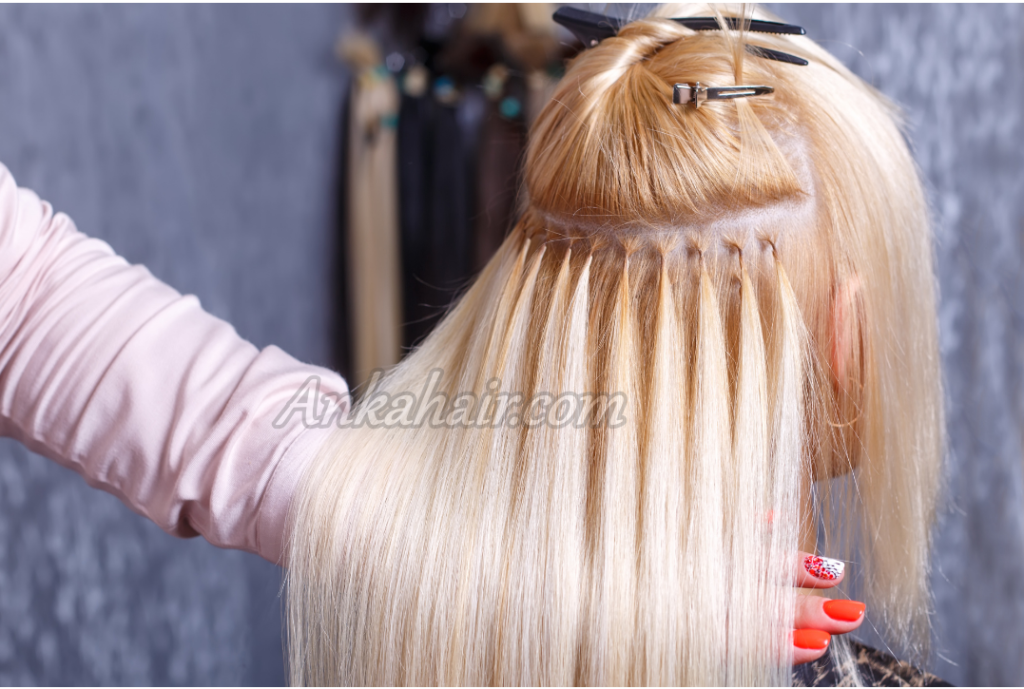 II, Classification
Depending on the shape of the keratin adhesive at the top of each bundle, keratin hair extensions are divided into 4 different types as followed:
Flat tip: The keratin top of the bundle is flat-shaped
U tip: The keratin top of the bundle is shaped like a "U"
V tip: The keratin top is in "V" shape
I tip: The keratin top is shaped like an "I"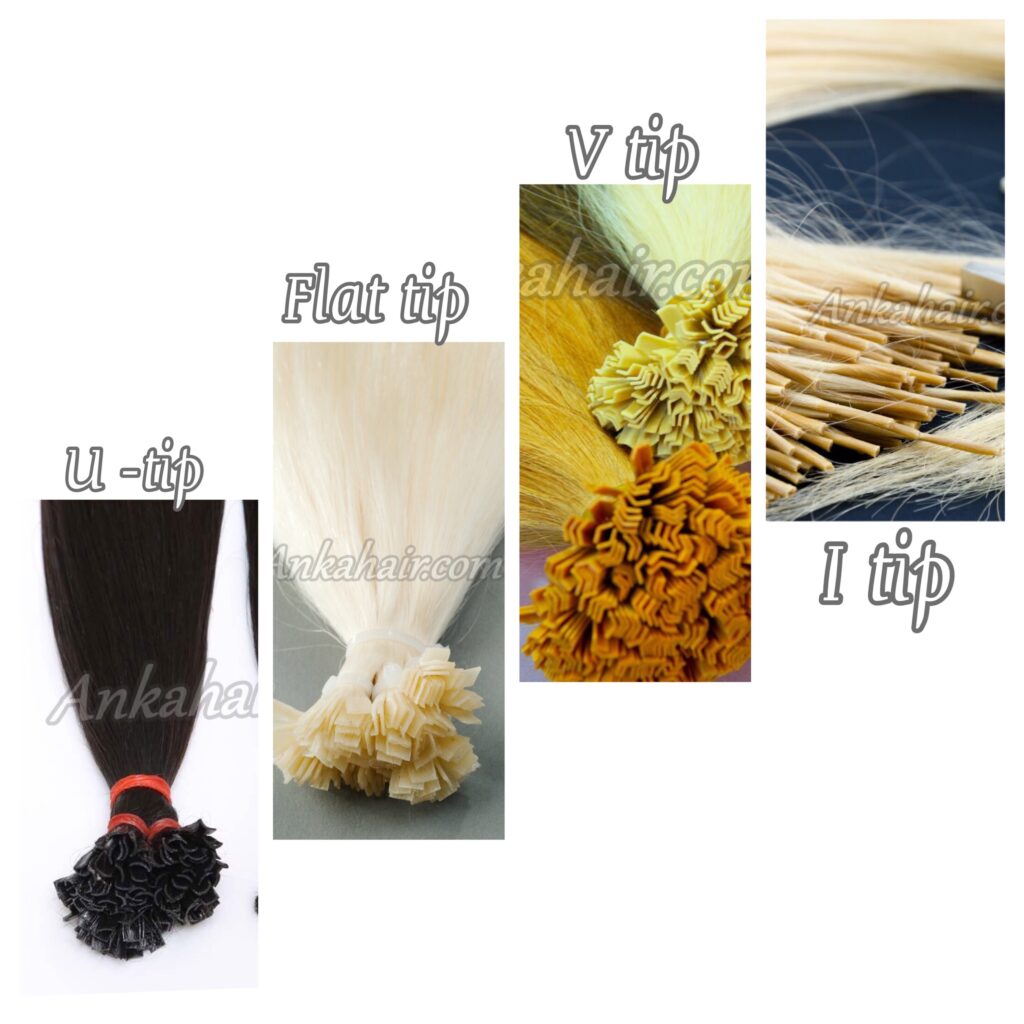 These four types of keratin hair extensions are also quite different when it comes to the method used to attach them to the hair. With flat tip, U tip and V tip hair extensions, your hair stylist will use heat to melt the keratin and then fuse it directly to your hair. Meanwhile, with I tip hair extensions, there are micro rings and pliers used to secure the extension to your real hair.
To have a close-up, let's continue with how to apply keratin hair extensions!
III, How to apply
As briefly mentioned above, there are two ways to attach keratin hair extensions. Technically, we call it the Cold fusion and the Hot fusion.
Hot fusion is the method that uses heat to attach hair extensions. After sectioning your hair into rows, your hairstylist will take a small section of your hair up and place a bundle of hair extensions on top of it, about 1cm away from the root of your hair. A special heating tool will be used to melt the keratin tip and make the extension glued to your natural hair.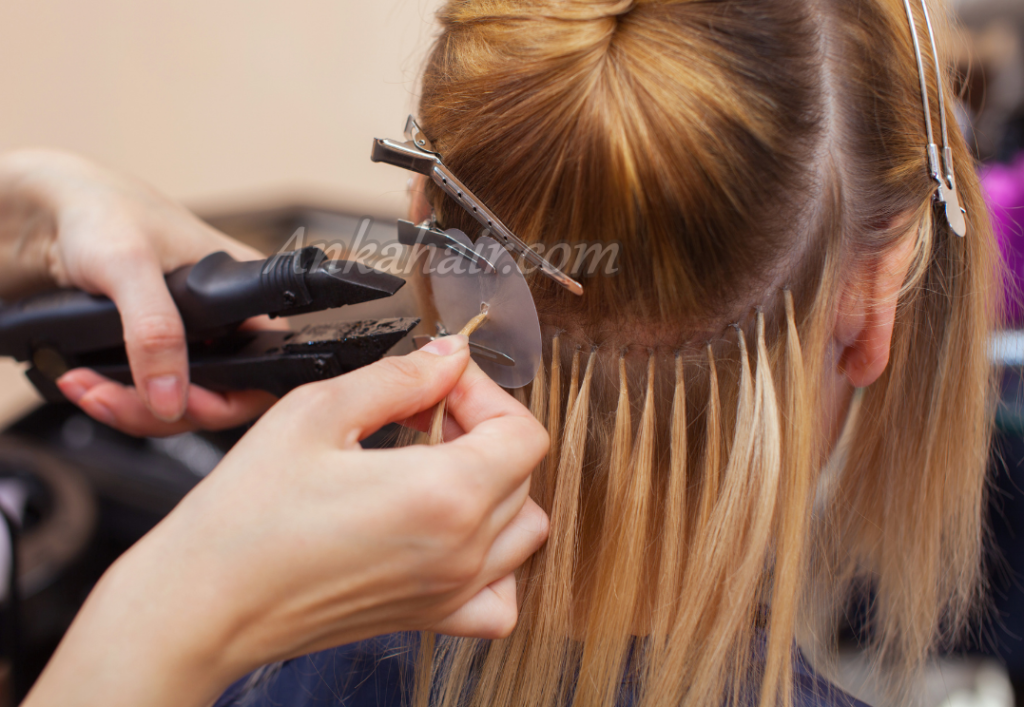 Cold fusion is the method that uses micro rings as the bond to secure hair strands into place. Each micro ring has a silicone lining inside which is meant to prevent any slipping and keep the extension locked into the hair. To apply, the hair extension bundle will be inserted into the bead together with some of your real hair strands, then pressed by a plier. The I tip hair extensions are often attached using micro rings since the I shaped tip can fit into the ring easily.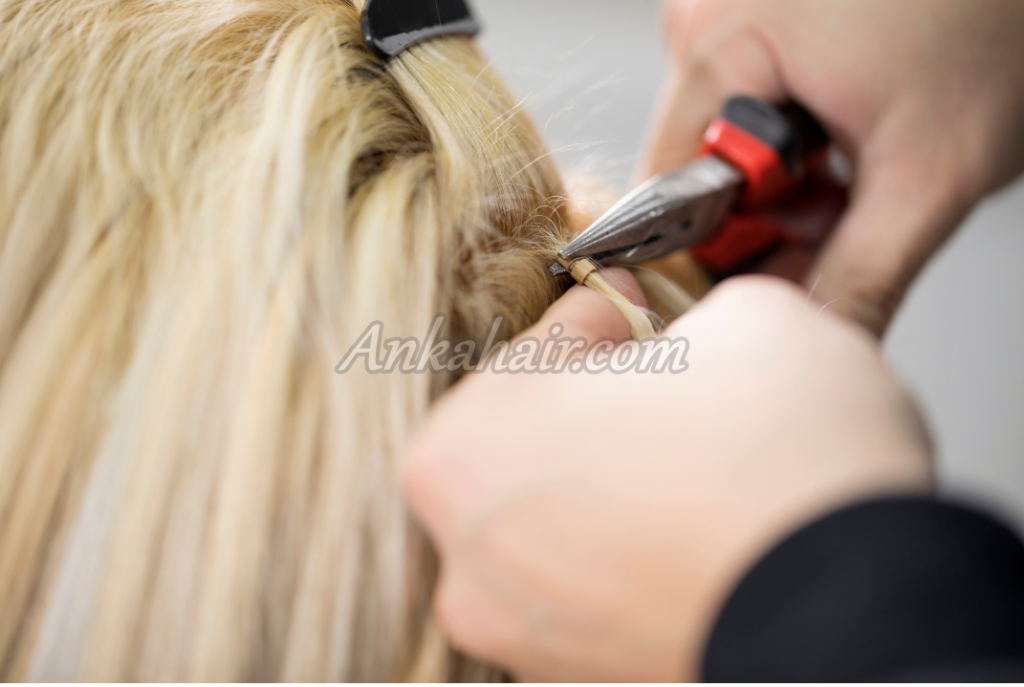 The whole process will take about 1 or 3 hours to complete as each bundle of keratin extensions must be attached one by one. After this, your hairstylist can cut, blow or style your hair to make sure all extensions are in place and the bonds are perfectly covered between layers of your own hair.
IV, Pros and cons
1. Pros
– Keratin hair extensions are made from 100% virgin hair, allowing you to curl, dye or bleach it whatever style you want.
– As your natural hair is actually made of 90% keratin, using keratin adhesive is safer than using regular glue. There will be no damage to your real hair and scalp.
– Each bundle of hair is attached by direct fusion, the bonds will be perfectly covered between layers of hair, giving you a natural and refreshed hair you've always wished for.
– Keratin hair extensions make it possible to do all hairstyles including ponytails, bun hair or wearing your hair down.
2. Cons
– As the attachment requires tools and technique, you are going to need a professional hairstylist to do it for you and the process itself may take a couple of hours.
– You may need special brushes or hair care products for the best maintenance.
3.Professional advice
As all other kinds of hair extensions, keratin hair extensions may require certain maintenance and care. You also have to take it into consideration before having a flat tip hair extension or a I tip hair extension in order to choose the best option for your hair. As a matter of fact, you may need professional advice on this and we at Anka Hair are here for you!
V, Before having keratin hair extensions
– Choose keratin hair extensions if you want to add volume (fullness and length) to your hair as well as to style and color it without damaging your real hair and scalp.
– Go to a professional hair salon to be advised on which type of extension is suitable for you. Whatever it may be, flat tip extension, V tip hair extension or I tip hair extension, make sure they are attached to your hair perfectly and correctly.
– Do not go for cheap extensions. Remember these extensions are fused directly to your real hair, so always choose high quality virgin hair extensions for the most natural and safe hair. If it is not available at your salon, you can order 100% unprocessed high quality virgin hair extensions directly from us and have the salon attach it for you.
VI, After having keratin hair extensions
– You may feel a little discomfort or itchy during the attachment but it will go away as soon as you get used to your new look.
– Do not use hot flat iron or heat the bonds directly or even brush your hair too hard. If you need to restyle your hair, go to the hair salon!
– When your real hair starts to outgrow (normally after 5-6 months), you will have to remove the hair extensions and reinstall.
Keratin hair extensions are the solution for those who are in need of a full and thick hair but also want to protect their sensitive scalp and hair. With four types of extensions and different attachment methods to choose, there is no doubt you can get the hairstyle you want easily. However, do not ask yourself: "How to apply U tip extensions" or "How to apply U tip extensions". This is not a DIY game to play. Always reach for professional help when it comes to keratin hair extensions. For the best hair extensions, remember to contact our sales consultant or click HERE to check out our products list.